Skip Breadcrumb Links
RCAP Leasing > About Us > President's Message

President's Message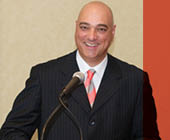 To all of our valued business partners, it's my pleasure to welcome you to RCAP® Leasing.
Since 1967, we've worked diligently to establish ourselves as Canada's equipment financing provider of choice. Whether you've been doing business with us for decades or you're one of our newer clients, we want to thank you for choosing RCAP Leasing for your equipment financing needs. As many of you will know, not all lease finance providers are created equal. We're constantly looking to raise the bar when it comes to providing fast, convenient and tailored leasing solutions, backed by one of the most experienced and dedicated teams of lease finance experts in Canada.
On behalf of everyone at RCAP Leasing, I would like to take this opportunity to personally thank you for your business. We place tremendous value on our relationships and we want you to know that, more than ever, we remain "Customer Committed. Capital Ready®". It is our mission to make equipment finance easy to help grow your sales.
Thank you once again for your business. And we look forward to continuing to serve your lease financing needs in the months and years ahead.
Sincerely,
Eugene Basolini
President and Chief Operating Officer